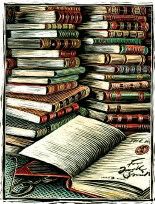 BEST NON-FICTION READ
I read a great many books over a year and possibly a quarter of them may be non-fiction. I read a lot of faith-based books and some of those have been really thought provoking but I could not pick out one book from the non-fiction genre as a 'best'. In fact it's hard enough picking one best fiction book!
There have been many inspirational books on writing where I have tried new exercises in writing and I dip in and out of these from time to time, especially when I get in a rut.
So there are no recommendations, nothing that has stayed in the brain that I can offer you. I do prefer fiction and get withdrawal symptoms without one on the go but often I will read a fiction and non-fiction at the same time. At present I am in the between stage as I have just finished
Monsoon Memories
, a first fiction book by
Renita D'Silva
. Her descriptions of India are filled with exotic aromas of spices and cooking, colours and sounds, the plants and trees. I can imagine being there. I very much enjoy books set in India or the Middle East and this one did not disappoint. The story is full of secrets, family loyalty and a mystery to be solved. I have one non-fiction book I've recently started but I also have a book at the library waiting for me to collect which is non-fiction,
Under The Tuscan
Sun by Frances Maye. Having been to Italy this year I am into everything Italian and picked up the second book at a charity shop for 50p but would rather like to read the first book first. The library have had to search around other libraries to get a copy but now it has arrived so I may go down today and pick it up.
Do let me know what your favourite non-fiction book is if you have one.
Just a thought - does anyone else keep a list of the books they've read? I used to just write them down in an exercise book but now I have graduated to a folder with alphabetical tabs for authors. Tell me I'm not weird!