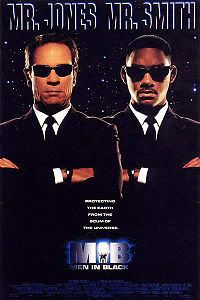 There was this incident on Thursday evening that reminded me of a scene from the film
Men In Black
. Our class was over a Morley College for a poetry writing exercise. The gallery had a display of ceramics and the purpose of this exercise was to find an object to write about and use the voice of the object to write a poem. It was the writing down that took my mind from poetry to a certain film. There were only two chairs in the gallery which the potters were sitting on. We had to balance our notepad on our arm to write our notes and that's when I thought of that scene where the wonderful Will Smith is in this big room with other candidates sitting in a pod-like chair trying to complete a test. Balancing the paper on his knee, breaking his pencil etc. logic wins out and he drags over (screetchingly) the only table in the room to lay down his paper. That is still my favourite bit of the film and it still makes me laugh. For us we grabbed a chair when it became vacant - it was a bit like the game musical chairs.
Anyway, I did manage to focus eventually, found an object to write about and am at present trying to draft my poem about a ceramic lobster in a pot (I kid you not!)
The Poetry School online course had live chat on Monday. I still can't find a voice there and I am beginning to think 'chat' is not for me. My poem received very good feedback - it was a humorous look at struggling with numbers in Villenelle form. Wasn't sure how it would go down but people enjoyed it. The third, and last, assignment is to mix things up, take the Villenelle as far as possible without losing structure. Sounds too complicated for me. I've edited one I wrote a few weeks back which is more or less a 'bog standard' Villanelle which I will use if I run out of time to produce anything different.