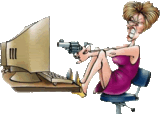 I think the world and his wife are online today - the internet is slow - well it is a wet, dismal Bank Holiday Monday. I've been spending the day catching up with my online courses, including the Start Writing Fiction course which is now into the fifth week. Our assignment was to write a scene about a stereotype who had a non-stereotypical attribute. Mine was about contract killer who rescued a dog from the building he'd set fire to with his victim tied to a chair and left for dead!
There are a couple of poetry competitions coming up, well deadlines looming actually, that I want to enter and I was in the middle of an online submission to the Bridport Prize, already frustrated because the site wouldn't recognise my previous login details and I was having to set up a new account. I'd just changed the password when WHAM the internet crashed. Cue my son after a day working and none to pleased because he said it was the wireless not the internet (of course I should have known!!). He sorts it out and I don't know where I am in my application. Both of us are getting a little heated, he's tired and I'm...well, me! Sorted it in the end and I'm plugged directly into the wireless now and I managed to complete my submissions....and breathe!
I'm wondering whether I can face another online submission today to Mslexia. Why do I get so uptight about it? Perhaps because I've had so much trouble with passwords and submitting online in the past. These poems are my babies and I've nurtured them and hope they are the best edit I can do, so letting them go is stressful enough without the hassle of finding my way around different online procedures. Am I the only one who feels like this?
On a very positive note I came back from holiday to find my copy of
The New Writer
waiting for me with a cheque for my second prize poem. Think I might frame it! The comments by poet and judge
Helen Mort
meant a lot to me. She claimed my poem
yields more with every reading both in terms of its subject and style.
On a sadder note this was the last issue of
The New Writer
owing to a decline in membership and the cost of producing the magazine. I am gutted as this is my favourite writing magazine and the re-vamp really made it stand out. The articles, news and tips are informative and I always follow things up. The competitions were numerous within the magazine and there was always something to' have a go at'.
I shall miss the magazine so much as it seemed unique to the market covering many areas of writing. It's such a shame. I don't understand why membership was so low - the magazine was a shot in the arm for me and I'm sure many others.